Our Playground Leaders are very popular on the yard at lunch time. The Junior and Senior Infants had great fun playing
"What's the time, Mr Wolf?"
Physical Activity Our playground area consists of the basketball court and a tarmacadam and concrete area on the lower yard which are suitable for lunchtime play and PE classes throughout the year. We have grass areas to the front and the back of the school which are available to the children when the weather is dry. We have a running track which is in use throughout the year. Our GP Room is suitable for PE activities in wet weather. An enclosed courtyard area is suitable for gymnastics and small games. Children play a variety of games during breaks including basketball, soccer, skipping and walking or running around the track. We have a very good supply of PE equipment which is stored in the GP Room and is clearly labelled. It is easily accessible and any broken or damaged items are replaced regularly.
Fundamental Movement and Skills Programme – this programme is delivered by the class teacher and also by our Murroe-Boher GAA coach . Members of staff have attended the Move Well Move Often courses. Staff have completed an on-line course in the programme run by Setanta College and which was sponsored by the Murroe-Boher GAA club. The Active School Committee demonstrate the teaching points at Assembly and the posters are on display in the school. We are prioritising Walking this term in order to promote good walking in the school and coming in from the yard.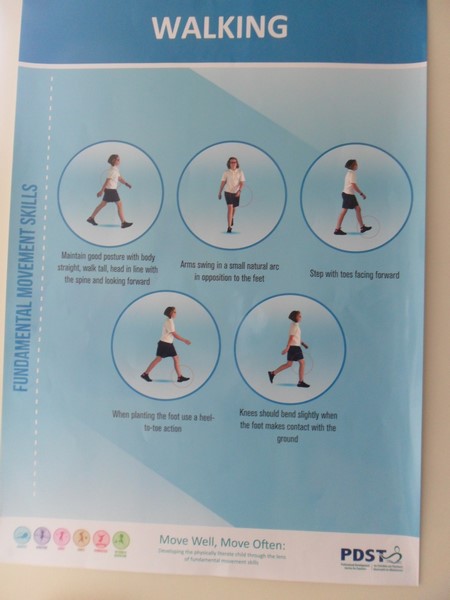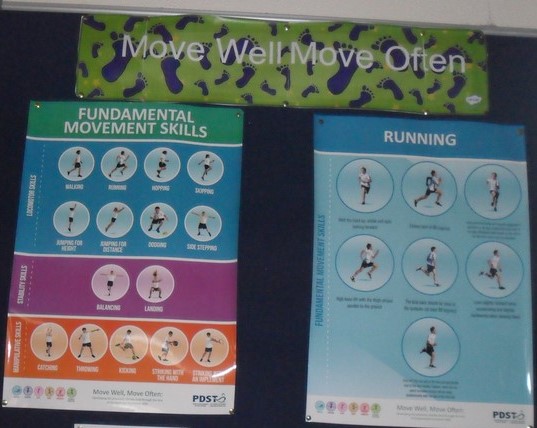 Active Homework – The Active School Committee will demonstrate an activity in the classes every Monday which will be the PE homework for the week. We are using the Super Trooper Exercises this term.